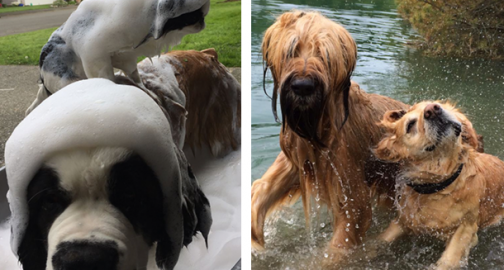 1.First, feast your eyes on these sudsy twins. They're having the best time!!!
2.Now, may I interest you in an itty bitty bath puppy?
3.These fur siblings are having an outdoor bubble bath! JEALOUS MUCH???
4.If you liked that, you'll LOVE these three friends having a shower party!
5.This bud is playing with the hose! WHAT!!!
6.Here we have a very good post-bath boy. His bath time has concluded, and it is time to turn into a towel burrito.
7.Have you ever felt this relaxed in your entire life???? I THINK NOT!!
8.This girl will soon be done with her bath as well!!! Where's HER towel?!
9.PLEASE COMMENCE SCRUBBING! DOG IS READY!!!
10.This pup's owner has been VERY generous with the bubbles!!
11.This pupper just wants to go play, but baths are important!
12.PLEASE DO NOT DISTURB!!! RELAXATION IN PROGRESS!!!!
13.Someone needs a squishy hug PRONTO!
14.You better BELIEVE she's been looking forward to this moment all day!!!
15.Is this even a dog???? Results are inconclusive!
16.MORE SCRUBS, PLEASE!!!
17.This sweet friend is unsure about how much she's enjoying this experience!
18.And this lil' sweetie is just done with the whole thing!!!
19.NOT SO FAST, LITTLE FRIEND!!! YOU ARE NOT 100% CLEAN YET!!!
20.Here's a sweet doggo receiving a top-of-the-line spa treatment. How much do you wish this was you?????
21.This extremely clever boy grabbed a spot in the kiddie pool before his human siblings could even get in there!!
22.You can pretend you'll ever enjoy a bath this much, but you'd be lying to yourself!!!
23.STEP ASIDE, PLEASE!!! THIS DOG MUST SHAKE!!!
24.So in conclusion, I hope your next bath is at least ONE FIFTEENTH as chill as this!!