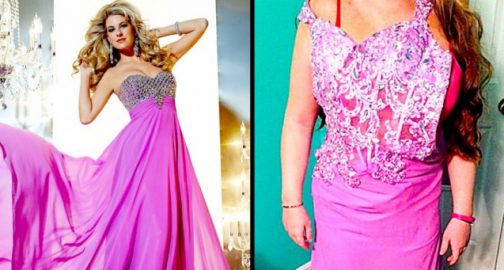 Women often spend hours in front of an open wardrobe looking for the perfect dress for a special occasion. Finding that one dress that will show off your figure may be very difficult to do without knowing the exact type of your figure. Worry no more! We at Bright Side found 8 different body shapes and described their features and the best dress options.
8. Apple shape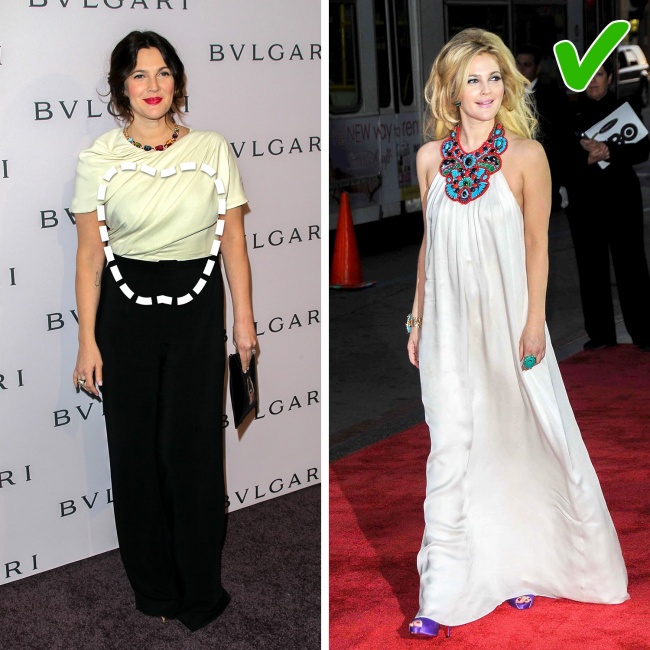 An apple-shaped body has a fuller upper part (your bust is larger than your hips and waist). Famous "apples" include Drew Barrymore, Angelina Jolie, and Tyra Banks. If you want to stun everyone at a party, go for dresses with an empire or drop waist to make your waistline more defined. The following dresses will also complement your figure:
Check out how Drew Barrymore's figure instantly looks better in a trapeze-shaped dress.
7. Inverted triangle shape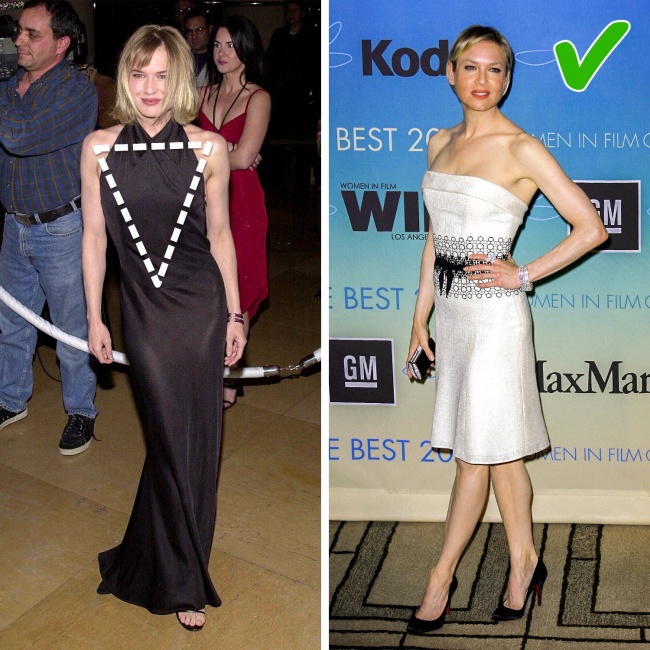 If your shoulders are wider than your hips and waistline, you have an inverted triangle shape. Many models and actresses have such figures, including Renee Zellweger, Demi Moore, and Naomi Campbell. There are many types of dresses that you can wear, but opt for V-neck, strapless, or one-shoulder pieces.
Renee's body looks much better in the strapless dress on the right than the one on the left.
6. Hourglass shape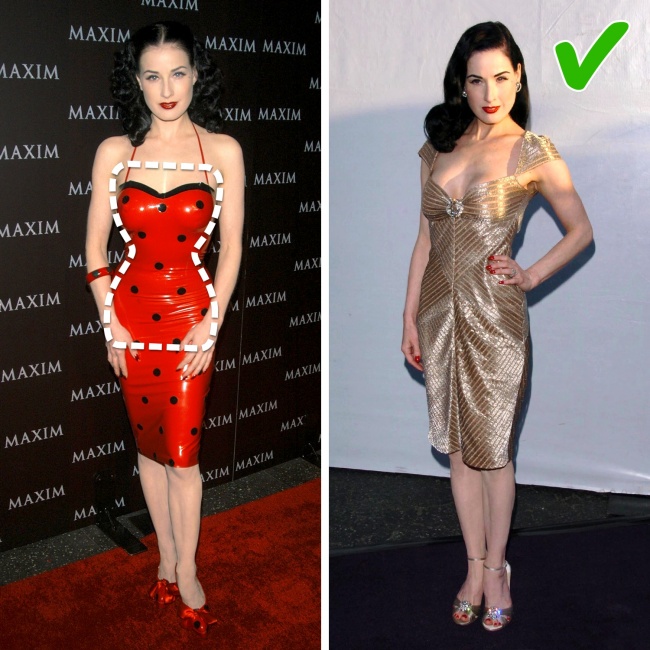 An hourglass figure is thought to be one of the most beautiful — a full bust and hips with a tiny waistline. Marilyn Monroe, Blake Lively, Scarlett Johansson, and Dita von Teese are famous "hourglasses." These lucky ladies can wear almost anything, but their figures will look their best in these dresses: wrap and pencil dresses, bodycon dresses, dresses with belts, scoop necklines, mermaid dresses, and A-line dresses.
Look how Dita chose to wear a pencil dress that goes just a little below her knee. It looks really beautiful on her figure.
5. Banana shape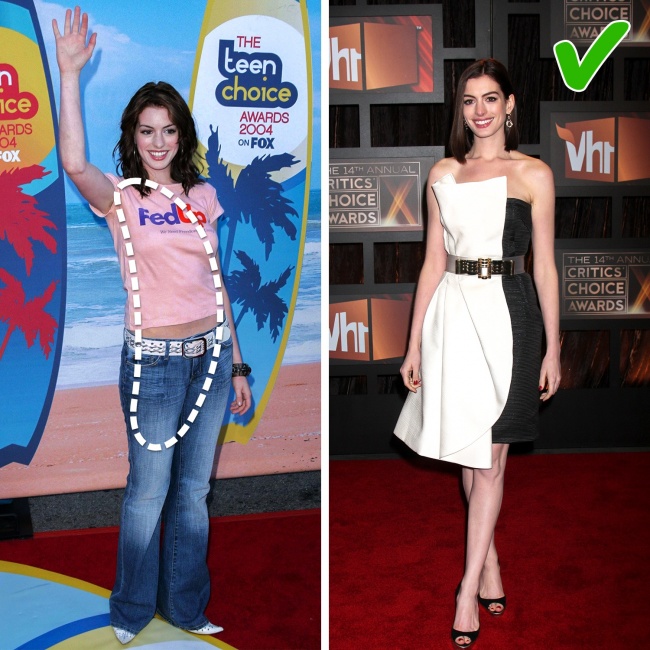 The banana-shaped figure tends to be lean and longer with almost shapeless hips and bust.
Famous bananas include Jennifer Garner and Anne Hathaway. They can wear almost any type of dress, but these ones will make their bodies stand out:
Check out how Anne Hathaway's figure looks more feminine in a dress with strong blocks of color (in the picture on the right).
4. Pear shape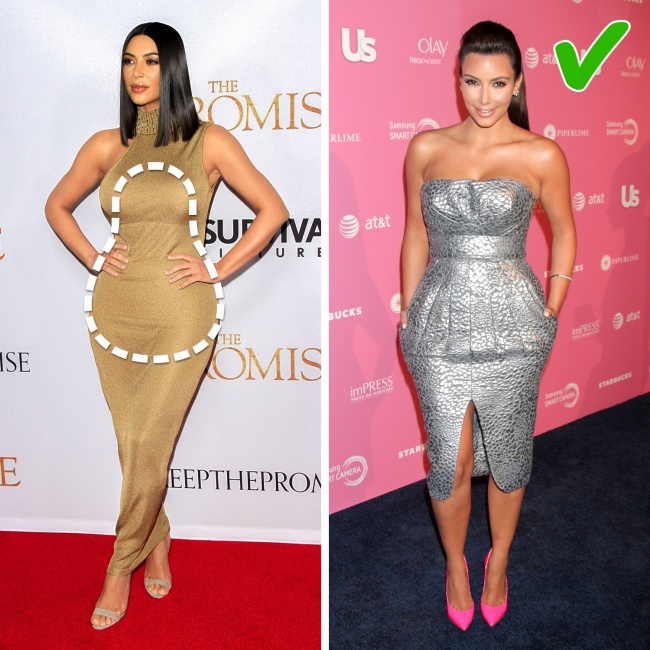 If your hips are a bit fuller than your waist and bust, then you have a beautiful pear-shaped body. Many celebrities share the same figure with you, including Kim Kardashian, Shakira, and Jennifer Lopez. Your aim would be to make your upper part match your hips, so go for:
Look at the photo of Kim Kardashian on the right — she chose a tulip skirt dress and looks stunning!
3. Rectangle shape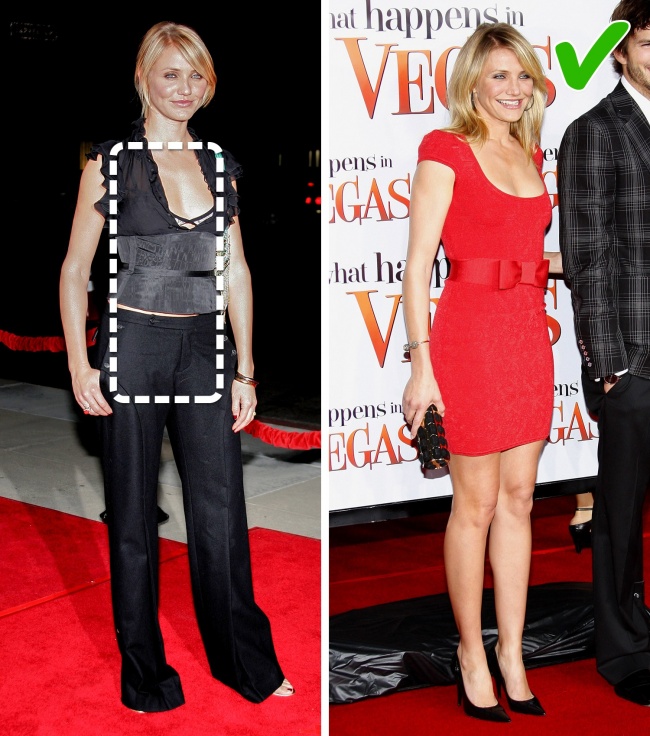 A rectangular body, otherwise known as a "sporty" figure, is believed to be one of the most desired and sexiest in the world. Most dresses look fabulous on this shape, but for the best effect, it's better to put on dresses that define the waistline. Also:
Celebrities with a rectangular body shape include Natalie Portman, Kate Hudson, Keira Knightley, and Cameron Diaz. Cameron did well by wearing a red minidress with a scoop neckline in the photo on the right.
2. Spoon shape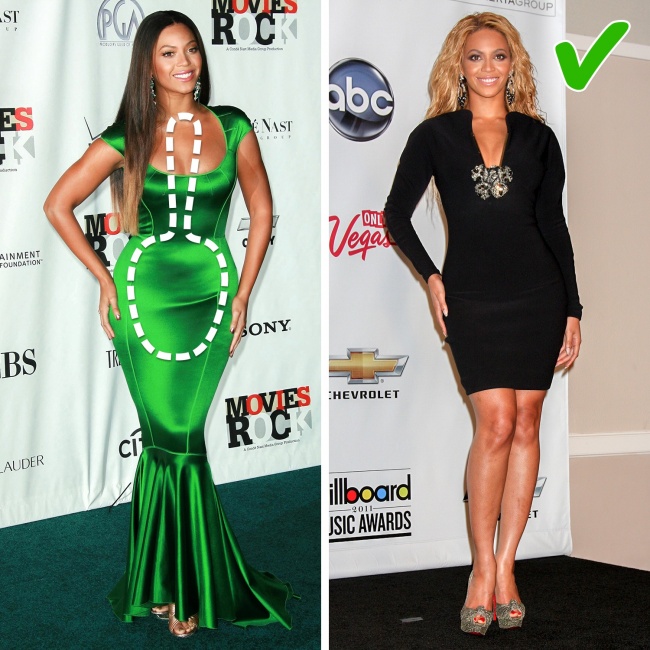 The spoon-shaped body is a bit different to that of the pear, with a more defined line of the upper hip, which looks more like a spoon. Celebrities that boast spoon-shaped bodies include Cheryl Burke, Beyoncé, and America Ferrera.
Dresses for spoon-shaped figures include pencil dresses with ruffled and puffy upper parts. Beyoncé's figure looks more balanced in the black pencil dress with ruffled shoulders on the right.
1. Diamond shape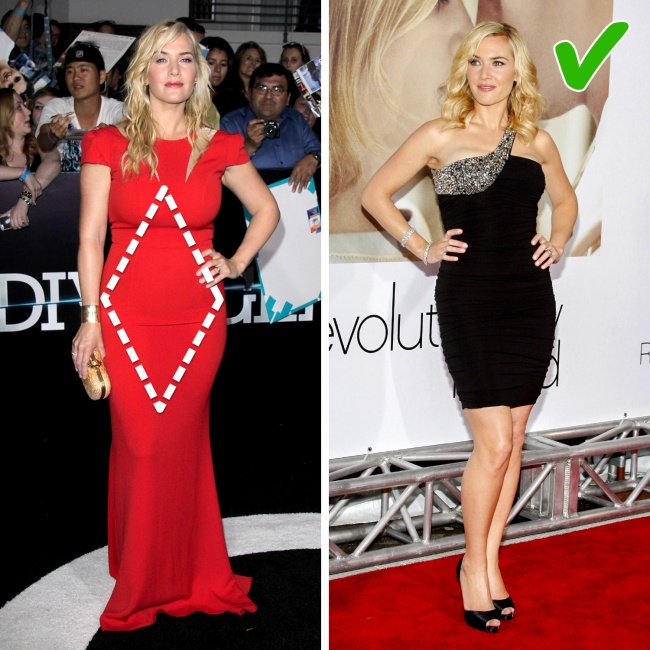 A diamond-shaped body usually has more at the waist and hips rather than the shoulders and breasts. Thus, your aim is to add more harmony by choosing a belted dress that cinches the waist. An off-the-shoulder or V-neck dress would also suit you beautifully.
Famous celebs with diamond-shaped bodies are Kate Winslet and Queen Latifah. Kate did well by selecting an off-the-shoulder dress in the picture on the right.
Now you know how to find the perfect party dress! Tell us in the comment section which body type you are. Which kinds of dresses do you choose when going to a party?