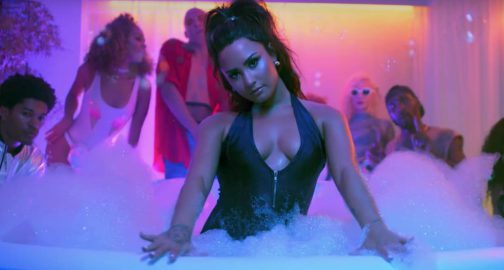 Demi Lovato threw a raging house party for her "Sorry Not Sorry" music video, and if you're not feeling the FOMO at that sentence alone, you will be soon. Paris Hilton, Wiz Khalifa, and Jamie Foxx were all on the guest list. Unfortunately, you were not. Womp, womp.
The festivities ranged from a kiddie-pool bubble bath to public make-out sessions. No, there's no making out in the pool, though that seems like a missed opportunity, TBH.
"Sorry Not Sorry" marks Demi's third annual summertime banger. ("Cool for the Summer" and "Body Say" came out in July 2015 and 2016, respectively.) July may be halfway over, but given how wild this party looks, "Sorry Not Sorry" could still be a serious contender for Song of the Summer. Anything could happen before Labor Day weekend.