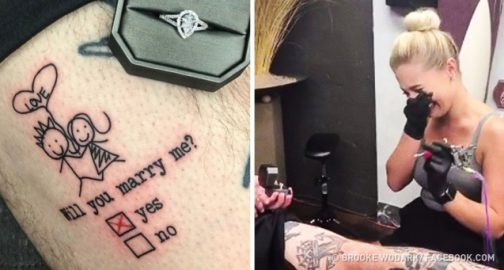 A marriage proposal is probably one of the most touching and exciting moments in the life of a couple. Some of them take this ritual really responsibly, with great imagination and a fair amount of humor.
Bright Side collected for you the most unusual proposals proving there are also knights in our time. The most brilliant proposal is waiting for you at the end.
10. Tattooed proposal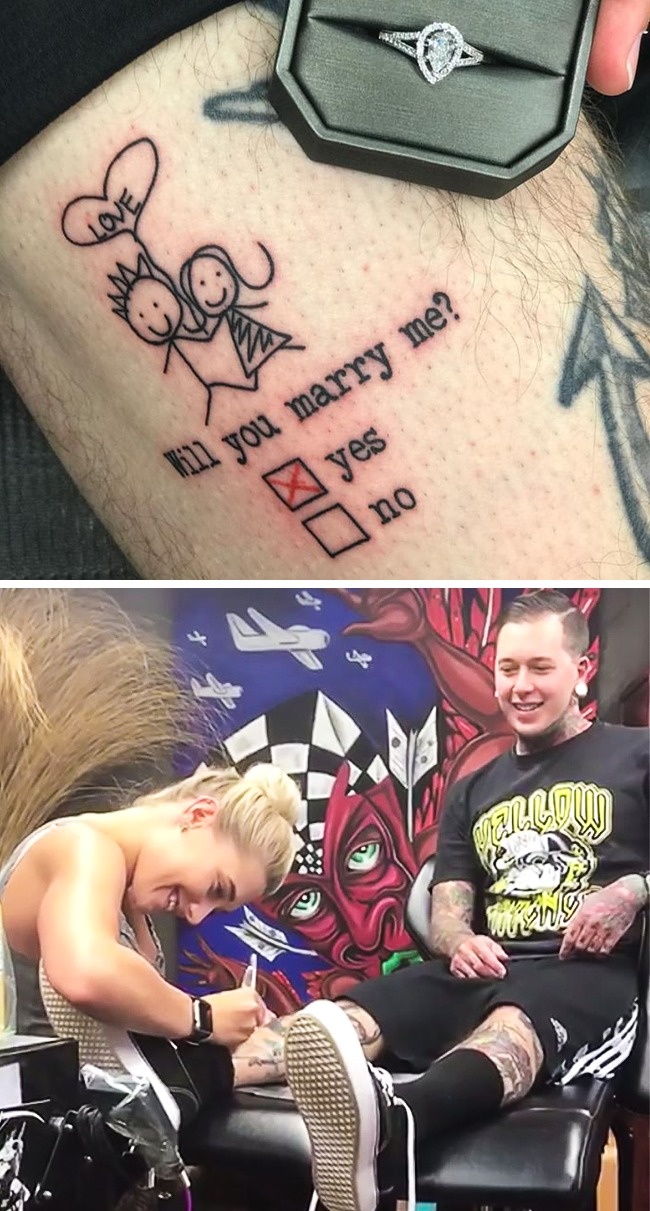 Vinnie Capaldo-Smith asked his girlfriend, Brooke Wodark, to tattoo his leg. When she started working, she saw a picture with the inscription "Will you marry me?" and 2 variants of the answer. Fortunately for Vinnie, Brooke gladly tattooed the cross in the "yes" square.
9. Beluga whale proposal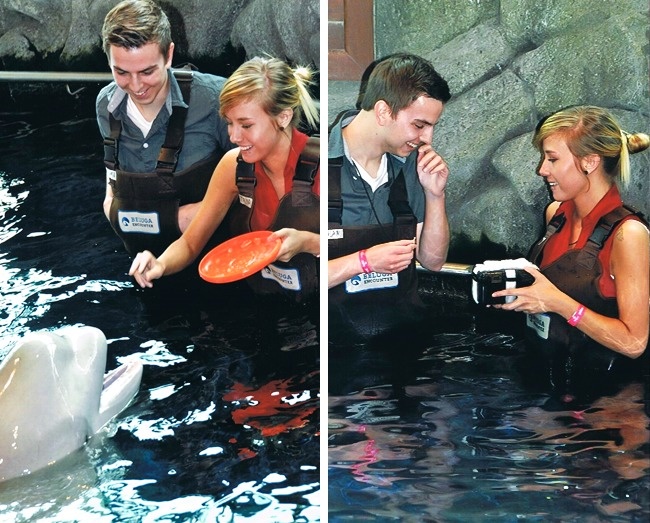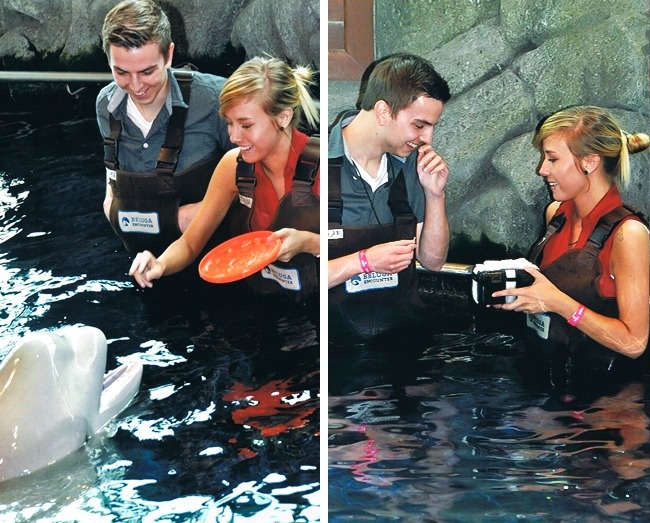 This guy from Chicago had an unusual assistant for his proposal. It was a white whale from a local aquarium, which brought a box with a note inside: "Will you marry me?" All he needed to do was give his love the ring and hear the cherished "yes."
8. Ice cream proposal
Luke Munsterteiger ordered a special ice cream for his girlfriend, Else, as a marriage proposal. There were emojis on the box that Luke and Else often texted to each other and the inscription "Will you marry me?" Later she "accidentally" found a treat intended for her in a supermarket.
7. Harry Potter proposal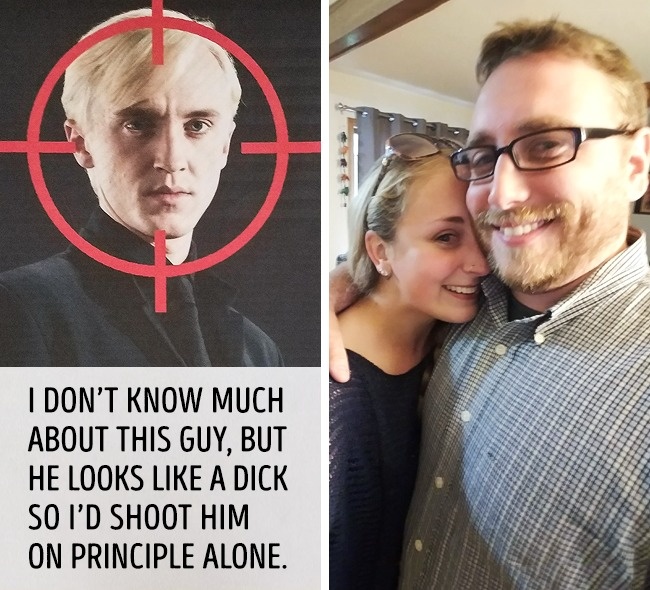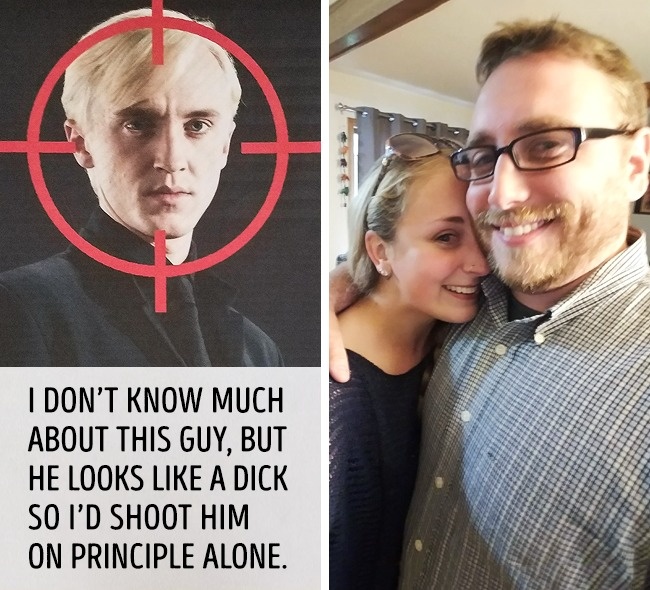 This guy decided to make a thematic quest based on Harry Potter, of which his love is a huge fan. "After he took the mask off, he asked me to be his wife and I said "Yes!" and ugly cried," she says.
6. "Literary" proposal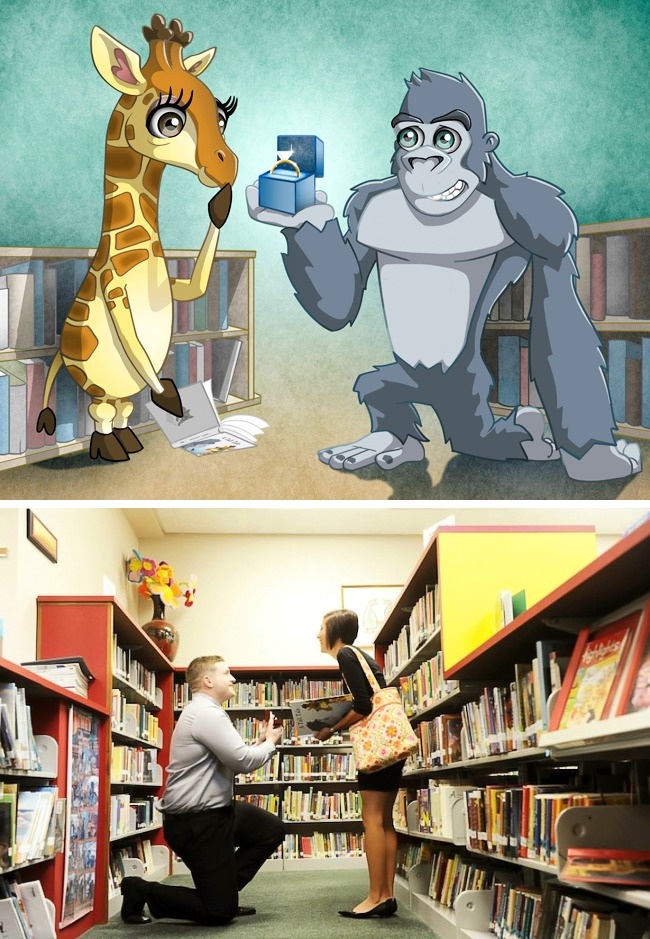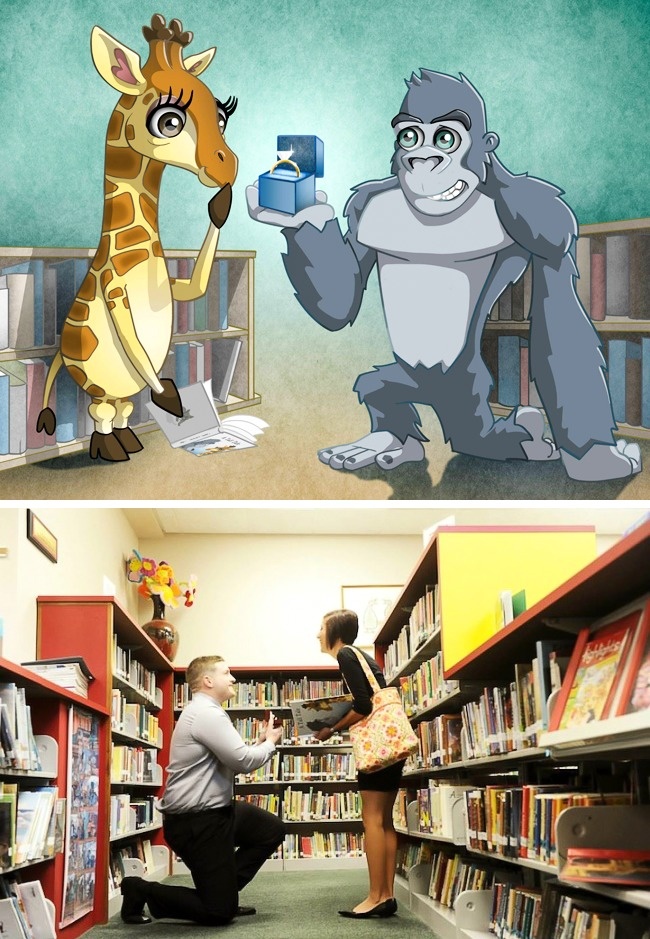 American Paul Phillips ordered an illustrated book about their love story for his girlfriend, Erika Ramos. He hid the surprise in the local library, where he brought his bride. After the surprised Erika saw the pictures, she happily answered "yes."
5. Telescope proposal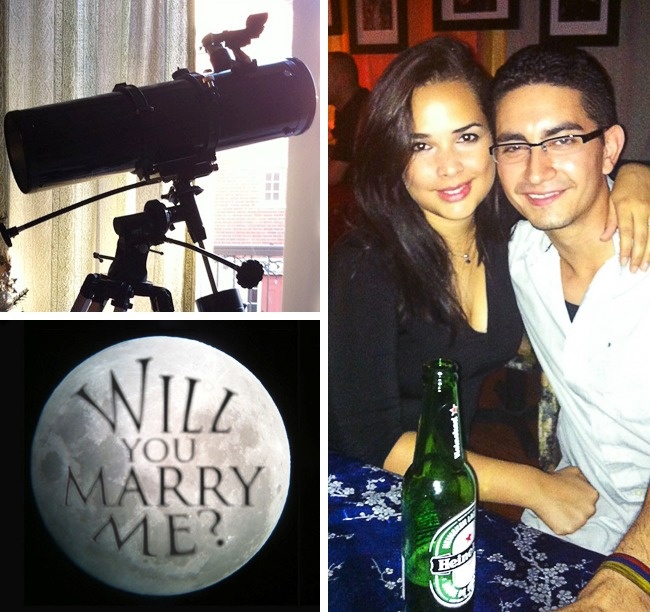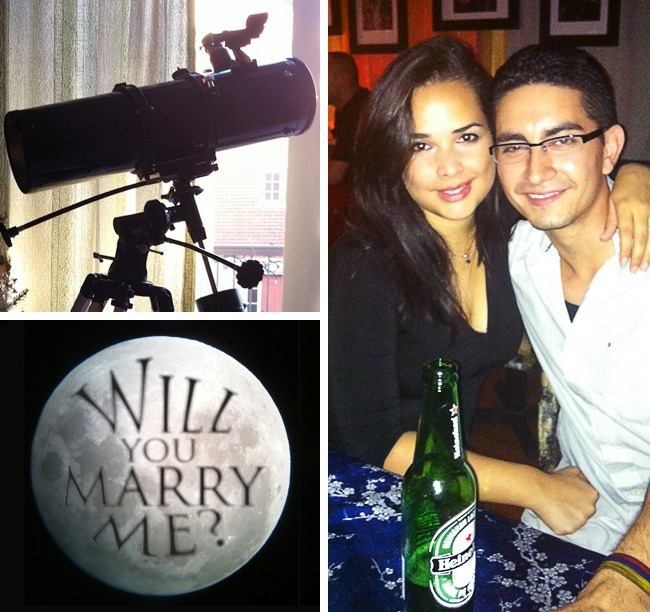 We could say that their marriage was predicted by the stars themselves. True, the heavenly luminaries got a little help from the guy in love, who made a lens for the telescope with the inscription "Will you marry me?" and casually asked his girlfriend to look at the Moon.
4. Board game proposal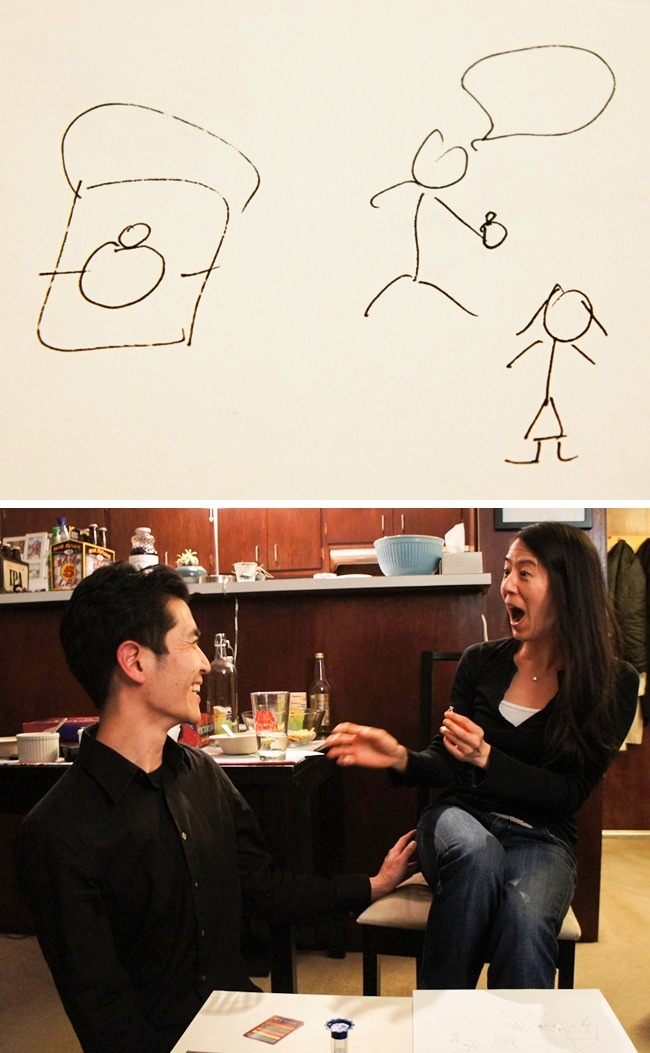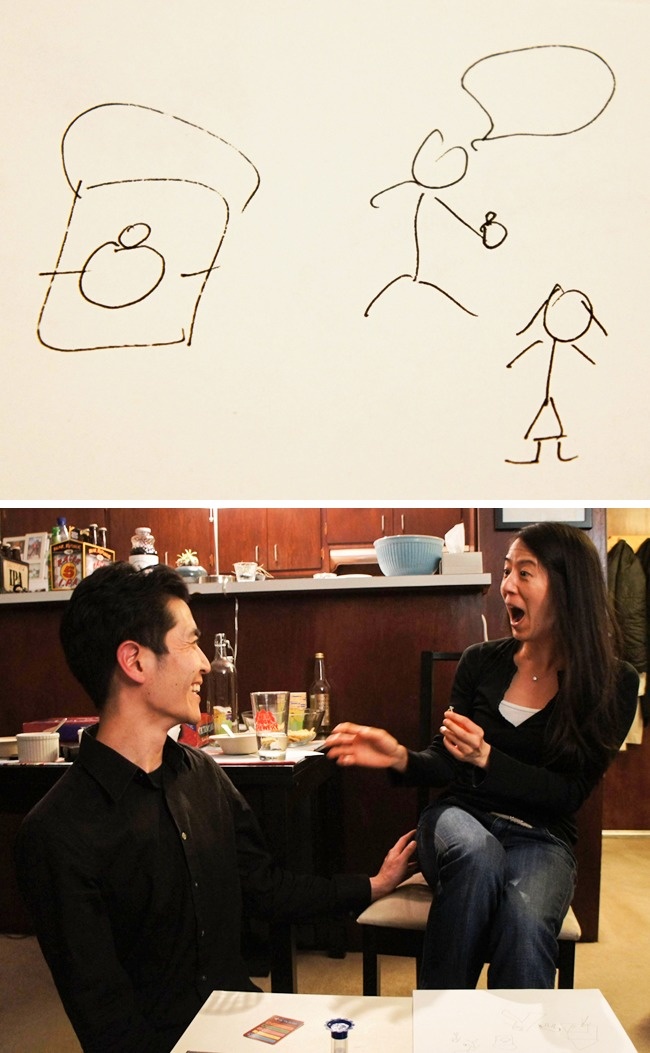 The woman in this photo literally won a marriage proposal: she had a card with the inscription "Marry me," which she had to draw. The happy woman guessed it wasn't the game only when her loved one took the ring out of his pocket and went down on one knee.
3. Proposal in Starbucks
Because of constant travels, Austin Mann and Esther Havens rarely saw each other. To brighten up their separation, they left notes to each other at airports' Starbucks coffee houses. One of these notes, which Esther found in Amsterdam airport, was followed by the proposal.
2. Proposal with a GPS tracker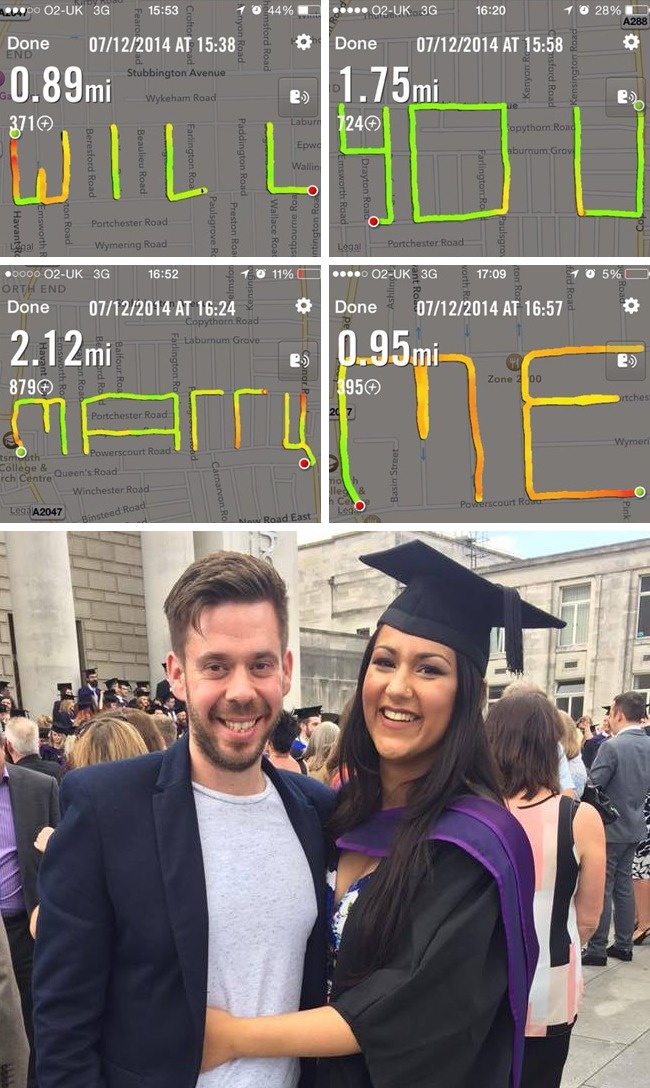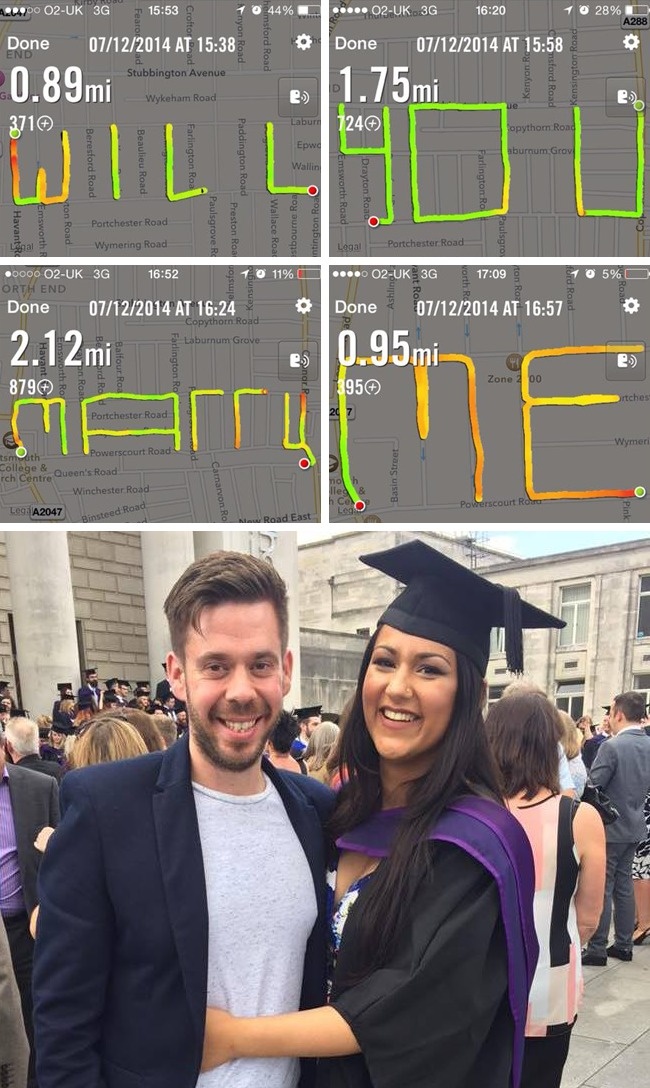 Avid runner Ben Chudley created a difficult multi-kilometer route during one of his runs, which was displayed on the GPS tracker in the form of the words "Will you marry me?" Ben showed the screenshot to his girlfriend, Olivia, accompanying it with a wedding ring.
1. Dancing proposal
You'd probably agree that it's great when a couple has common interests. Phil Wright thought the same way and decided to propose to his girlfriend, Ashley, with whom he's dancing, during a dance. It was bright and incredibly touching.
Preview photo credit Brooke Wodark/ facebook.com