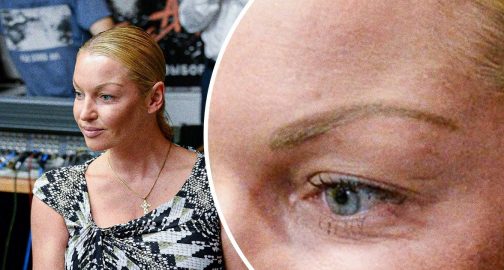 There are some women that try to look young and manage to create a simple, airy look despite their age. But there are also young girls that look much older than they really are. To avoid this, we have to take many important things into account and choose the right clothes, accessories, and makeup.
We have discovered which things make us look 2-10 years older than we actually are. You may want to check your wardrobe after reading this article.
1. Mary Jane shoes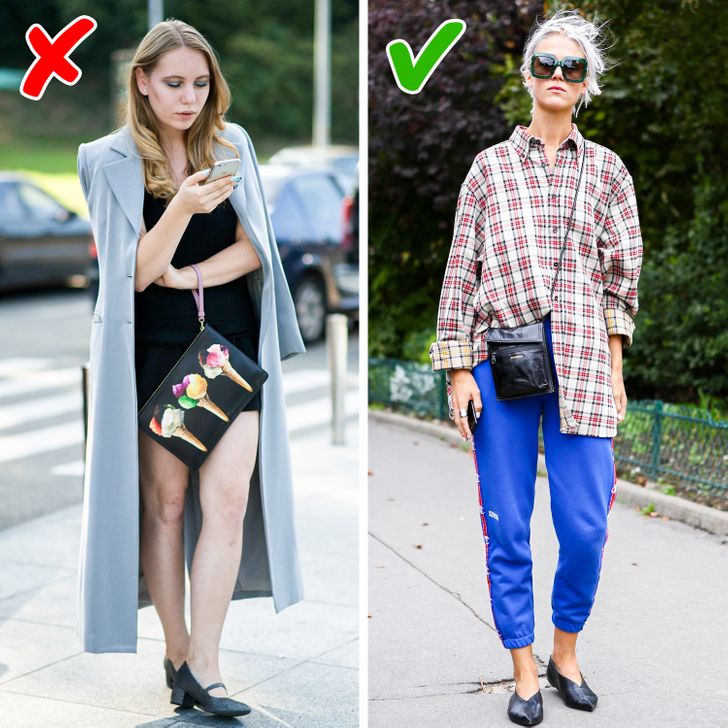 Such shoes with a thin strap and a rounded toe make us look older and ruin even the most stylish looks. The women that wear them claim that these kinds of shoes are really comfortable. Of course, the shoes we wear every day have to be comfortable but they can still be stylish. A great alternative would be any other shoes without a strap and a more pointed toe, making the silhouette appear visually longer. Keep in mind, straps only look good on summer sandals.
2. Clothes knit in a complicated way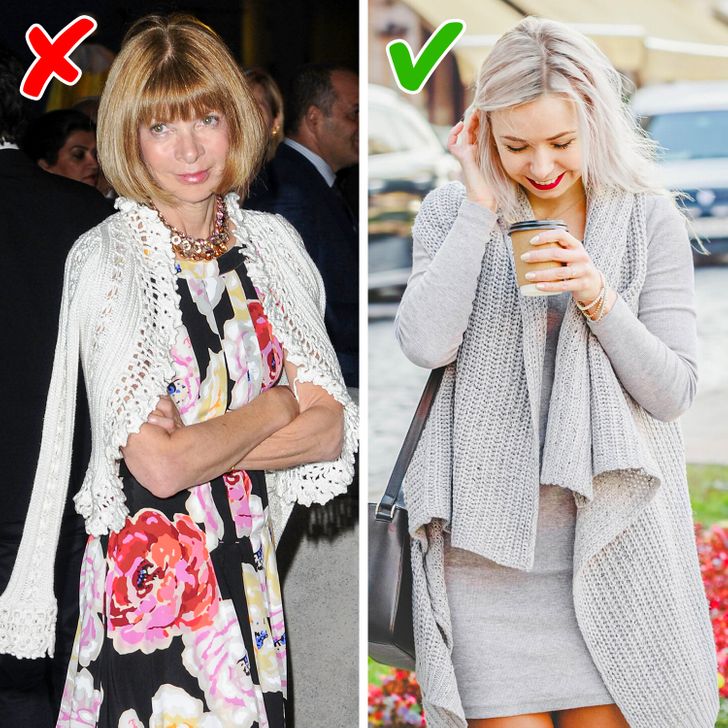 We have to be extremely careful with knitwear. Simple knit clothes look quite stylish but if they boast complex patters, they look old-fashioned. And it doesn't matter if the clothes were "handmade" — after all, the word isn't synonymous with "trendy" or "stylish."
3. Shapeless bags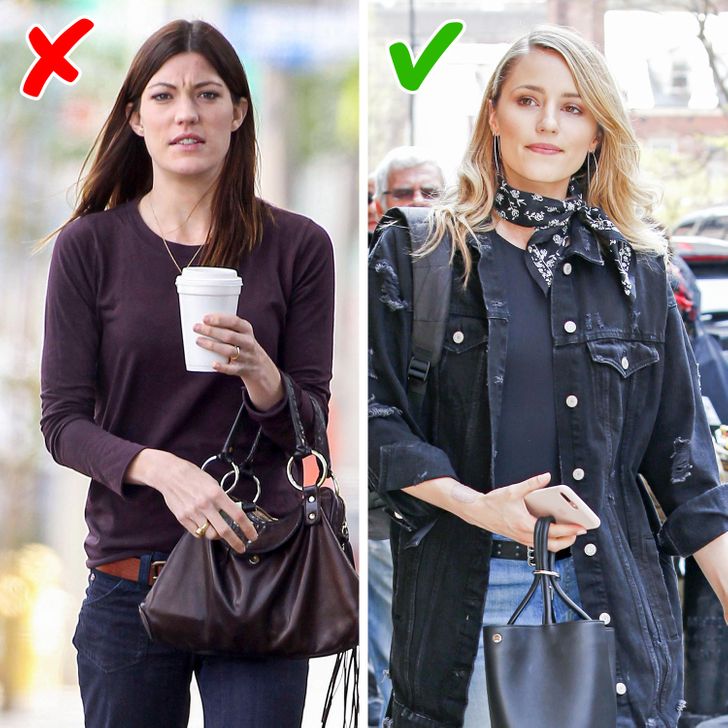 A big, floppy bag can make a woman's body appear shapeless, and they can even look older. It's better to avoid such models and choose simple, geometric shapes. They give some structure to one's silhouette, making them appear more modern. Also, be sure not to choose bags with a lot of decorative elements. In this case, less is more.
4. Godet skirts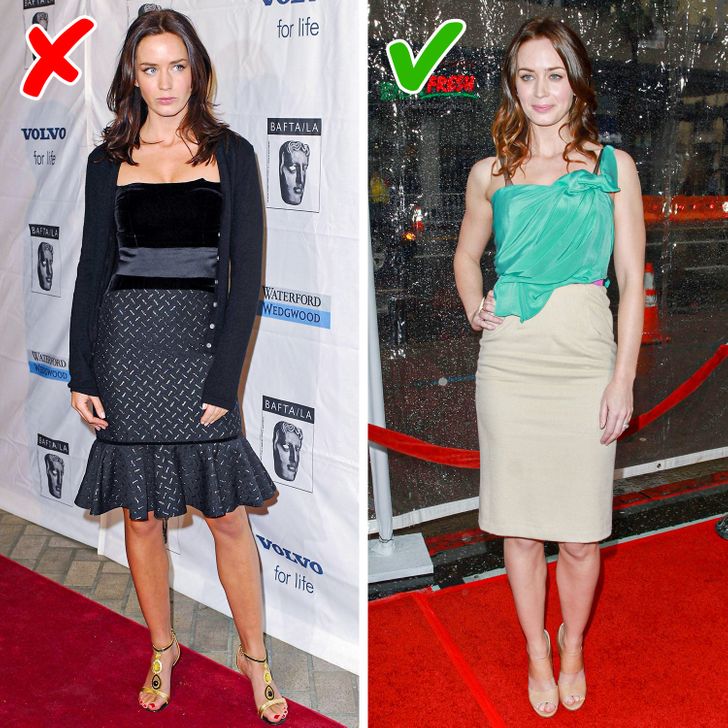 Emily Blunt in 2007 and again in 2010
This model looks like a standard pencil skirt. But at the knee level, it gets wider. Ideally, it's supposed to give some balance to big hips but such skirts are considered to be a retro style which is why women wearing them always look older than they are.
5. Non-trendy headscarves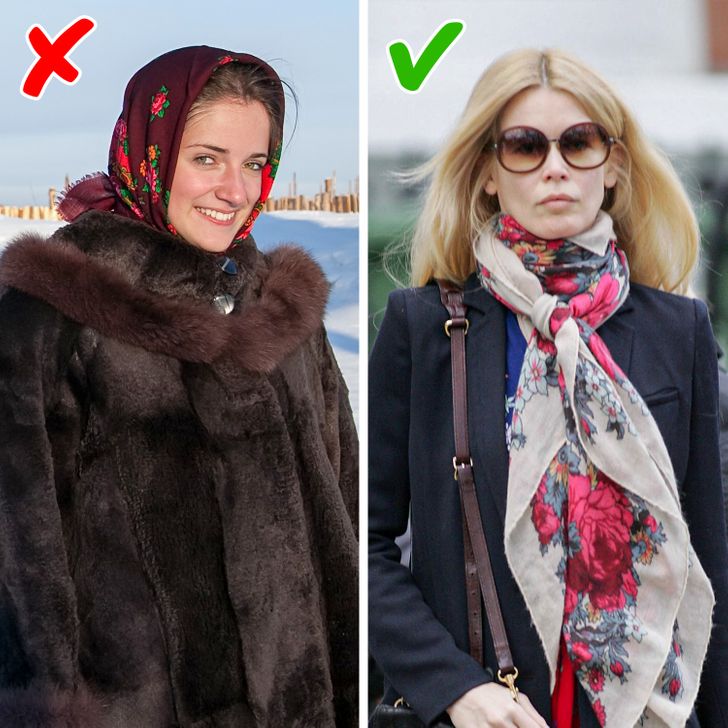 Such scarves don't only help us keep warm but they also make us look way older. Such scarves should be combined with some contrasting clothes like minimalistic, military, or even rocker styles.
6. Shiny beige tights


A lot of trendy women of the '90s wore such tights. But today, they're considered tacky. They make anyone's look appear very simple and the legs can appear fat. If you want to wear tights in a beige color, they should be matte and as similar to your skin color as possible.
7. Massive jewelry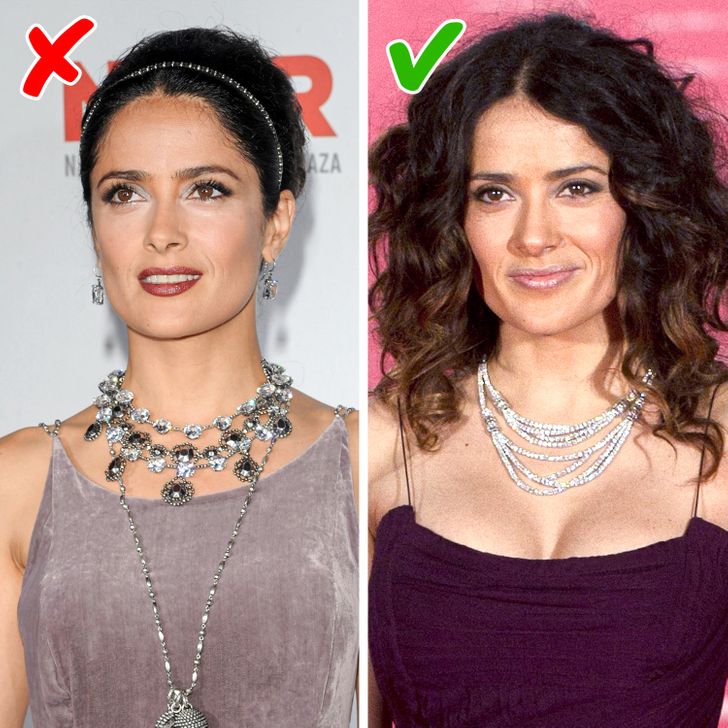 Long necklaces made of different gems and sparkling things make a woman look much older than she is. And if you have silver-covered hands with big gems, the hands start to look too big. If an older woman wears such a ring, it will distract attention from her old skin but young girls don't need to wear such jewelry.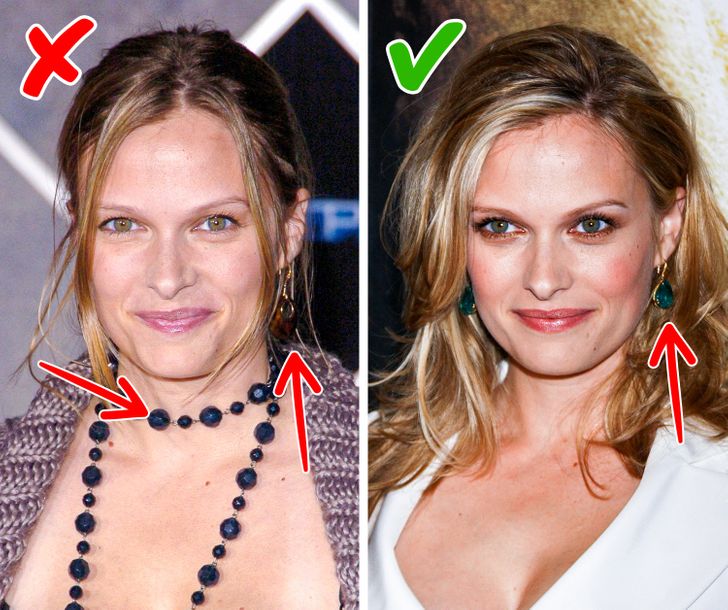 8. Berets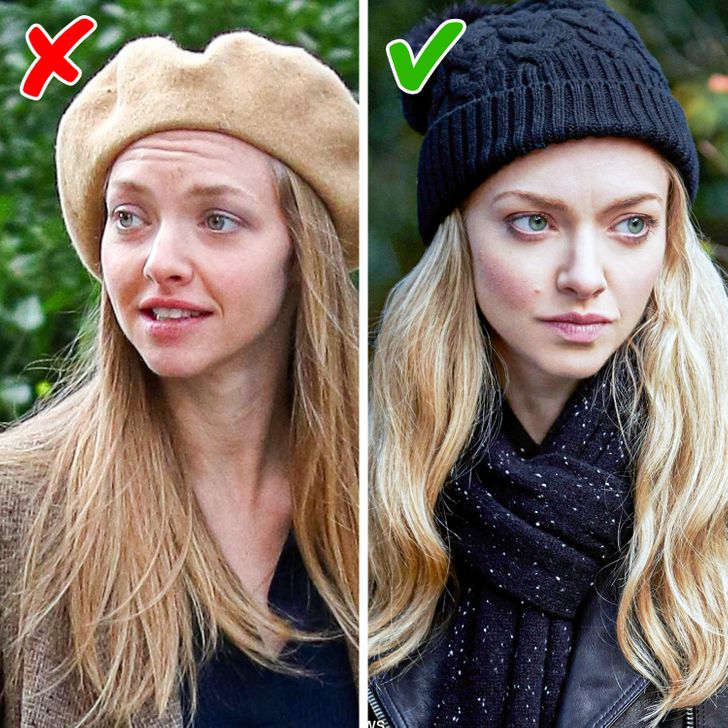 In the past, berets were considered to be elegant and charming in a French way. But as it turns out, French women don't wear any hats in the fall at all. In general, berets don't look very modern which is why a lot of older women love them.
9. Bright prints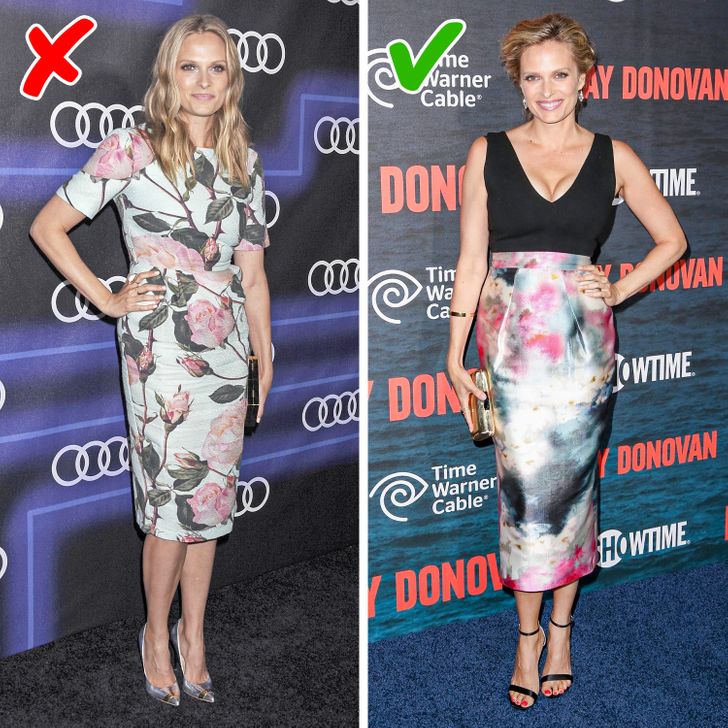 The most dangerous area for bright prints is around the face. This is where the colors that look good on us should go, and all the colors we're not so sure of should be worn on our lower half. This correct color placement can look great on anyone. And if you have a dress with a print on it that you're not sure about, put a sweater on top since this is one of the most stylish modern solutions.
10. Silk scarves


n this case, everything depends on how the scarf is combined with other clothes. The more complicated the way it's tied, the older a woman looks. To create a younger look, wear this accessory as simply as you can. Scarves should be combined only with casual clothes.
11. Baggy clothes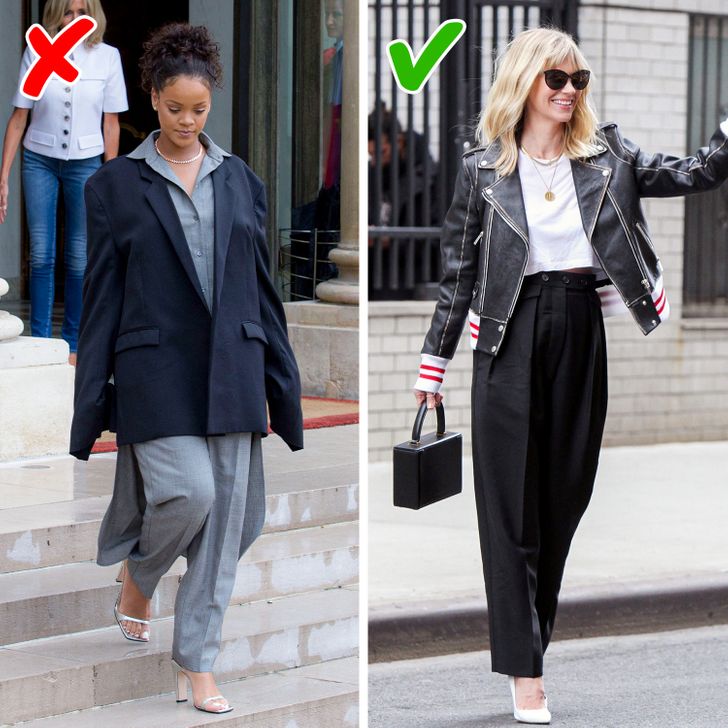 Trying to hide one's body shape flaws, many women wear big clothes in the form of dresses, T-shirts, cardigans, and pants. Yes, oversized clothes are on-trend these days but if you get the proportions wrong, such clothes can add a few inches and a few years that you definitely don't want. To avoid this, follow a simple rule: go baggy up top with a narrow bottom or vice versa.
12. Jabot blouses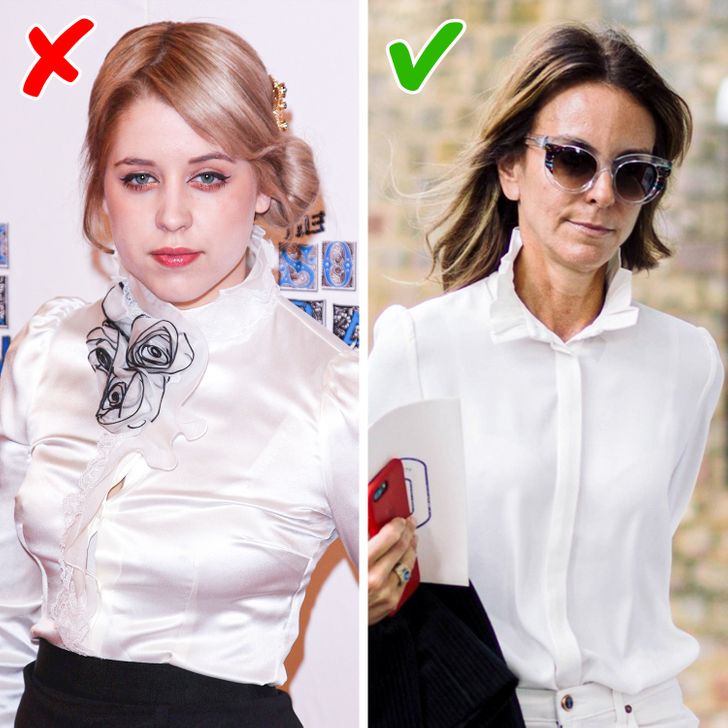 This decorative element is a thing of the past and it might look good on an old lady. Young girls will only look bigger and older. Clothes without any decorative elements look simple, fresher, and lighter.
13. Certain fabrics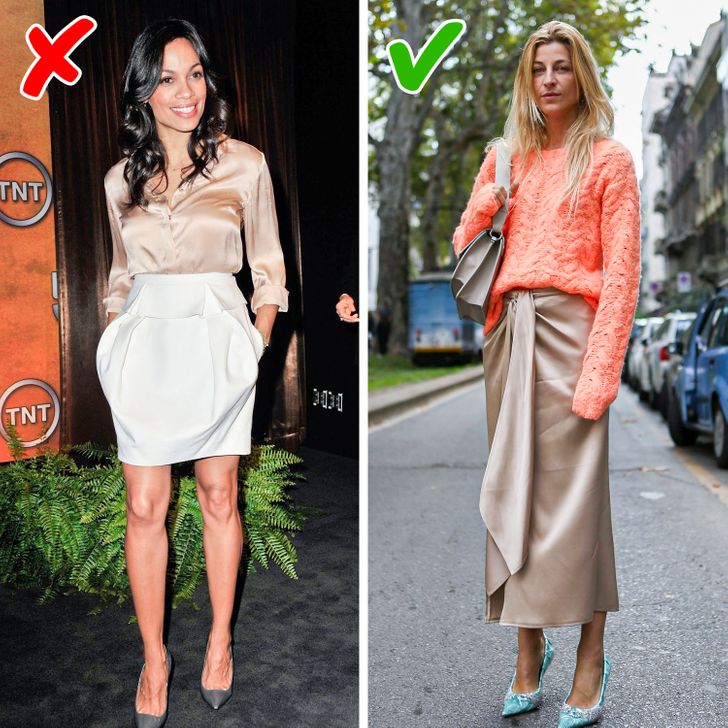 Fabrics such as satin, velvet, and tweed should be worn very carefully. You can wear modern velvet pants if you don't want to look slimmer. And a velvet jacket will add several pounds as well as several years. Satin blouses are not all that trendy these days but satin midi dresses look very stylish. In order not to look like a time traveler from the past, it's better to mix tweed clothes with modern items like T-shirts and jeans.
14. Clear eyebrow shapes


Thin eyebrows are not trendy anymore, and most girls know that. But there are still some girls that try to keep their brows in the perfect shape, putting in a lot of effort. Perfect eyebrows don't make you look older on their own but they show that you're not aware of the modern trends. The more natural your eyebrows look today, the better, no matter what other imperfections they may have.
15. Faded microblading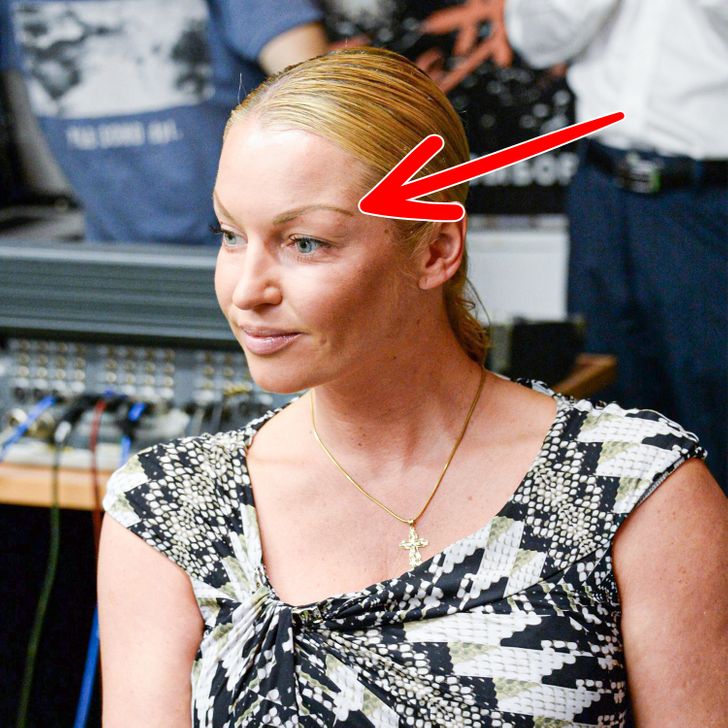 1-2 years later, tattooed eyebrows start to change their color. This is quite normal. But many women neglect this change and don't even notice that the color has become unnatural. The best solution in this situation is to either remove the tattooed lines or get them redone. But keep in mind, it's quite expensive to remove it and it can take up to 1 year to do so.
What things from your wardrobe would you not get rid of under any circumstances?
Preview photo credit East News