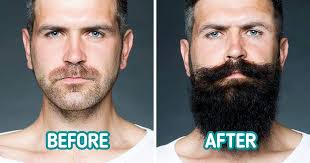 Animals, like cats, get used to things being done a certain way. If things change, they can even get sick. People also have their own comforting daily rituals that can help them prevent and manage stress, and taking care of your body is one of the best ways to do that. No matter whether it is done at home or at the salon, it can work wonders. To prove this point, let's take a look at the list of devices that can help you get salon-quality care at home.
1. Believe it or not, this laser device can stimulate your hair growth: "The hairdresser remarked that my hair was longer than usual and seemed thicker too. She asked what I had been using or doing. She told me that she thought I was getting some hair re-growth. Time will tell, but after about 3 months of use, I am happy with the results."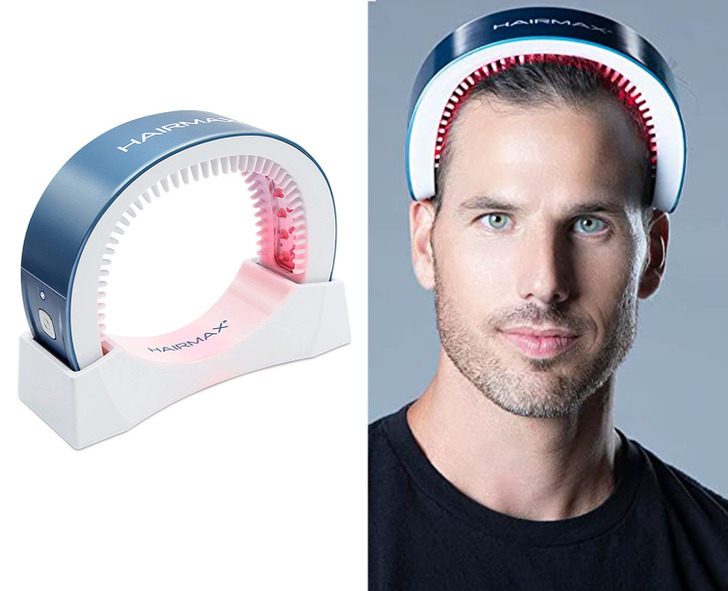 The energy is directly targeted to hair follicles to reverse thinning and boost growth. The product is easy to use. 3 minutes, 3 times a week is enough for treatment.
Promising review:
Yes, it works, within reason. So first off, I didn't buy this from Amazon. Got it from elsewhere, as they had a 3-month money-back offer at the time. I am a skeptical git ? So I have been using this for 1 year now. 3 times a week for 3 minutes as directed. No, this will not reverse baldness, I still have my bald patch, but it does stimulate any remaining hairs or roots to grow. I have noticed that the hair I have is now thicker and definitely healthier. My 'widow's peak' has covered up, and my bald patch is less noticeable, but as I said, it's still there. I'm not embarrassed about my bald patch, but I suffer from eczema and have always had an itchy scalp. So light therapy was always an option, and this brand had the best reputation, so I thought I'd give it a go, sort of getting a 2-for-1 treatment. Yes, it has gotten rid of the itchy scalp, and as a bonus, I have more hair. I'm now 50 years old, at this age, my dad, grandad, and great-grandad had varying versions of a comb-over ? I thankfully don't need to do that. In summary, if you are bald, it won't do anything. If you have thinning, receding hair, give it a go. At worst, your scalp will feel better!
Update October 2021
The unit still working, the hair is in good condition, and the eczema is still under control. The bald patch has grown slightly, widow's peak is more noticeable.
Still doing better than my genetic predecessors.
Would I buy another if this one packs up? Definitely. The improvement in my scalp alone is worth the investment, and I've still got the majority of my hair, well, mostly! — Skinny Mike
2. A curling iron that will save you a lot of time and effort: "Amazing. So easy to use! This hairdo only took me 15 mins and I put no effort into sectioning the hair."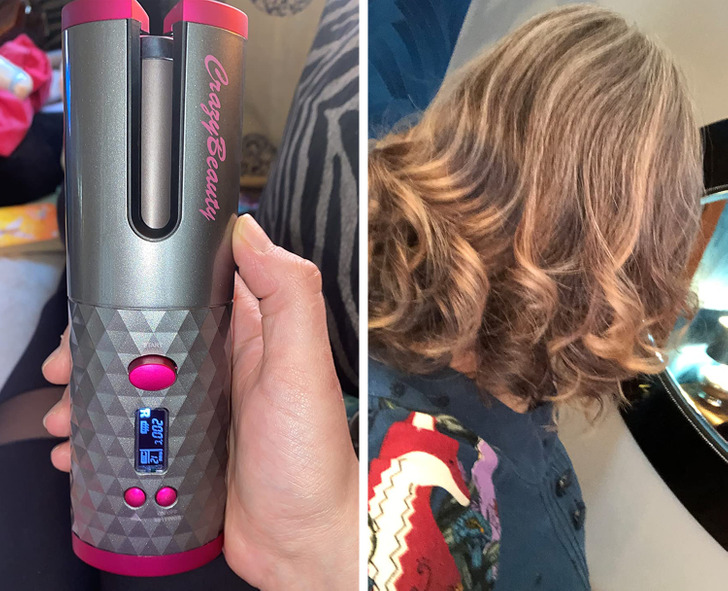 The device has temperature control. There is a left and right-side curl. Warning: Do not hold your hair tight as the machine starts taking the hair through.
Promising review:
Oh my gosh! Although, this is on the expensive side. This is one of the best, easiest-to-use curlers I have ever used. I am a qualified hairdresser, although I do not actively practice anymore, sadly. So I have tried a few. Just have to get used to the R side & L side, as 'your' R is L on the screen, for curls to go back, etc. The hair feels lovely after. Just have to practice, depending on hair type, how long you wish to leave it, to end the bleeping. Leaving until the end on naturally wavy, blow-dried hair can be quite tight curls. So I take my hair out before the bleeping stops. Do not put too much hair in, or it switches off. — AL
3. A useful device that is very helpful for people with different capabilities: "As someone with fibromyalgia, I had pretty much given up on trying to blow dry my hair. The combined weight of a hairdryer in one hand and the styling brush in the other was too much for me to manage, and I usually had to give
up after completing a quarter of my hair. I find it easy to hold, and the fact that you can support the other end to distribute the weight makes it very manageable."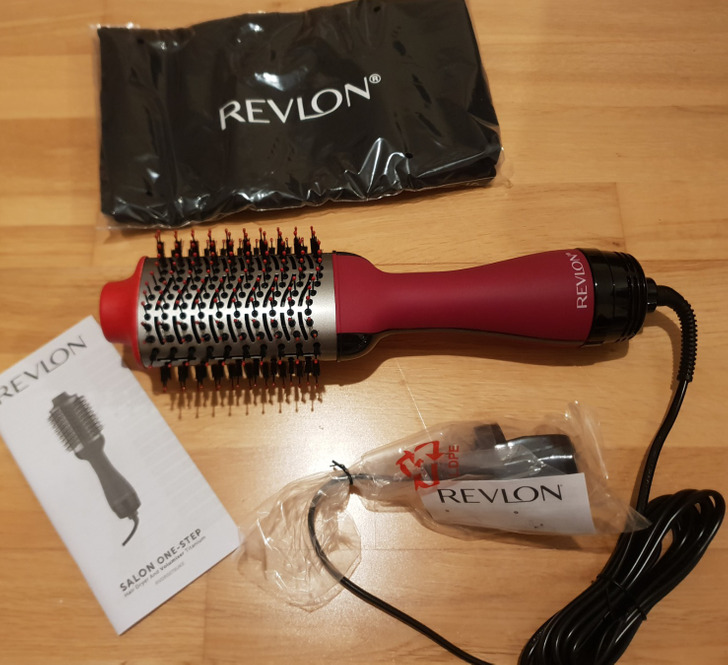 This styling tool has the power of a dryer and gives the hair volume. Creates a salon-like finish. Helps reduce over-styling damage with even heat distribution. Perfect for medium to long hair.
Promising review:
This is a 2-in-1 styling hairbrush and dryer, and the design is not only very aesthetically pleasing, but also simply luxurious. The royal red color is gorgeous. The build quality is excellent, as expected from Revlon. In terms of performance, the dryer heats up very quickly, and I managed to style and dry my slightly longer than shoulder-length hair from damp to completely dry in less than 7 minutes, which is fantastic. The brush is super gentle, the bristles reach my scalp but are not abrasive and not painful. It's a beast of a brush — big and looking bulky, but it has an excellent grip and is comfortable to hold. Looks and feels premium. It comes with a storage pouch, 3 heat settings for every hair type, and a super convenient long cable that doesn't tangle or twist into itself. The thing I really love about this dryer is the volume it gives my fine, straight hair—it makes it puff nicely like a lion's mane. Very pleased with the performance so far and the results and would recommend it without hesitation. Salon quality hairstyling in the comfort of your home. — Kimo
4. An anti-aging galvanic wand that is an absolute miracle worker. This is a unique beauty device that combines 42℃ heat with high-frequency vibration. "Excellent product! Does everything it says and more! I had a blocked tear duct and was given a hot pack to use on my eyes and was required to massage my eyes afterward — well, this does all of that too and works faster than the actual heat pack."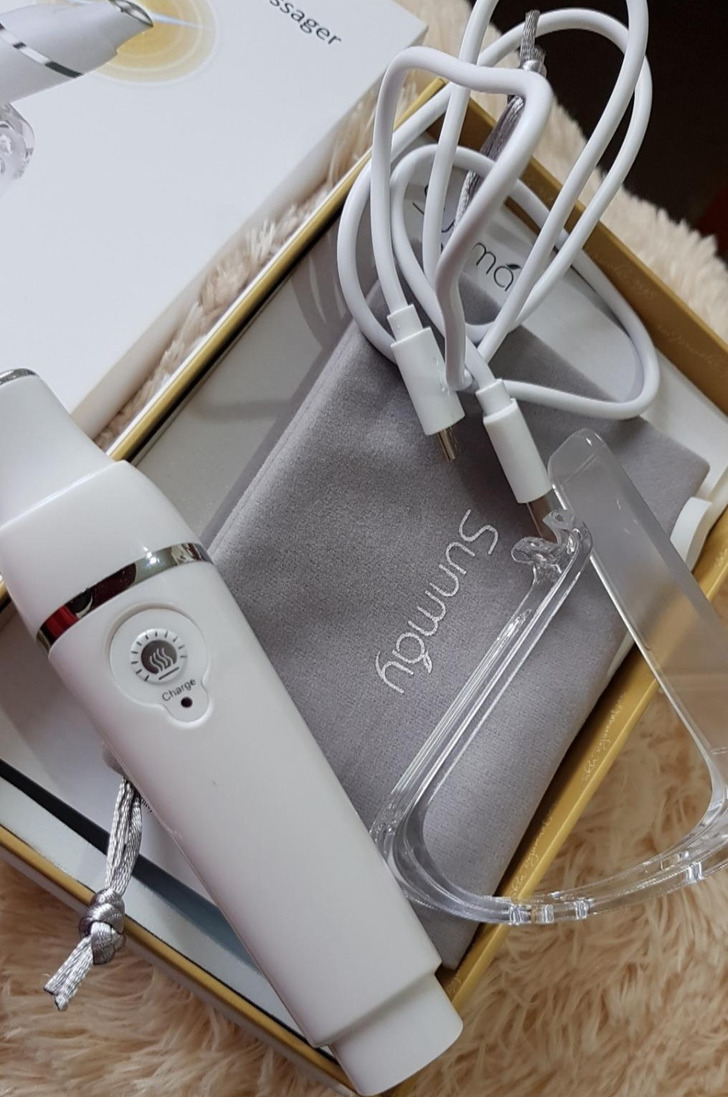 The temperature can reach 42℃, which boosts blood circulation and collagen regeneration. It uses a frequency of 7000 gentle sound vibrations per minute to relax your skin.
Promising review:
All I can say about this product is wowwwwwwwwwww. I am a glasses wearer and sometimes my eyes get strained and so tired. I tried this multifunctional eye massager out today, and I am so pleased and happy, too. The instructions are so easy and simple to follow, and you will notice the effects quickly. I love that it comes with a stand as well. It's perfect to use to display on my vanity table. It comes with beautiful cardboard packaging, a wand, a stand, a manual, and a USB charger. The heated mode is so relaxing! I also love that it comes with another mode, too. This is perfect for reducing fatigue and eye bags. It charges rather quickly too, which is perfect for quick use. It's easy to clean and maintain! I applied a little under-eye cream, and I loved the effect and will continue to test it out. Overall, it is well worth the money! — Tolu
5. An electric rechargeable face lift roller can tone your skin: "An amazing home multi-functional face and neck massager, and anti-aging tool. This DIY home facial lifts, tones, and improves uneven skin tones with the added blue LED. It is easy to use, therapeutic, and only 20 minutes a day makes a huge difference to the skin's appearance. After only one week, family are commenting that my skin looks smoother, uplifted, and brighter."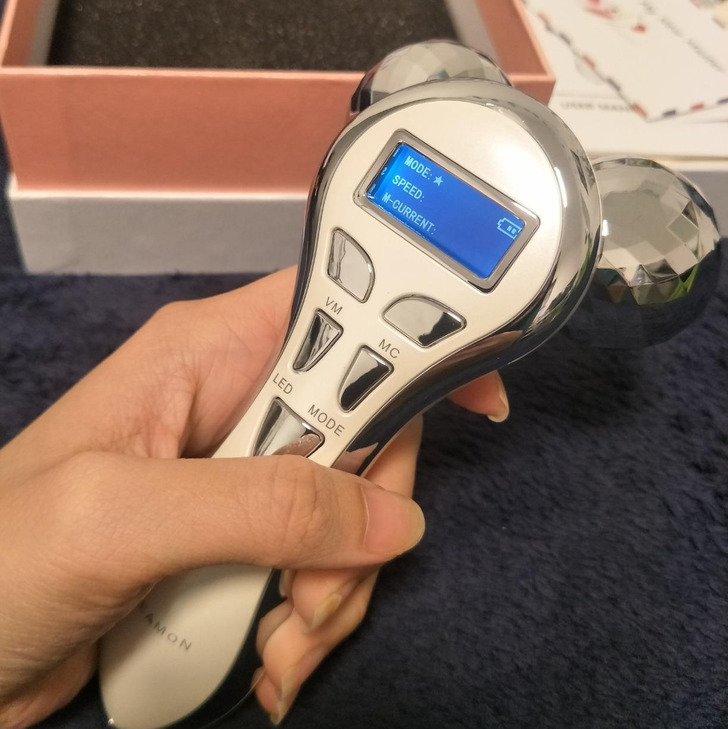 The device boosts blood circulation. You can use it on your body: massage the neck, shoulders, and forehead. You can also combine the massage with using skin care products.
Promising review:
This is my second facial massager, but the one I had before did not have microcurrent therapy. At first, I thought it might be painful because I have very sensitive skin. However, I only experienced a slight tingling when I used the highest intensity level of microcurrent. This current can repair cells, stimulate blood circulation, and stimulate collagen production. I have been using it for a week and I really like it. When I use it, the 'V-shape' between the roller balls slightly grabs my skin, making my skin feel tight. I have tried all the options for each model. My favorite mode is vibration mode, which helps my skin relax. For this price, I definitely think it is worth buying as it offers a lot. — jj
6. A face sculptor that can perform a non-invasive facelift. Don't be deceived by the looks of the device — despite the size, it's very powerful.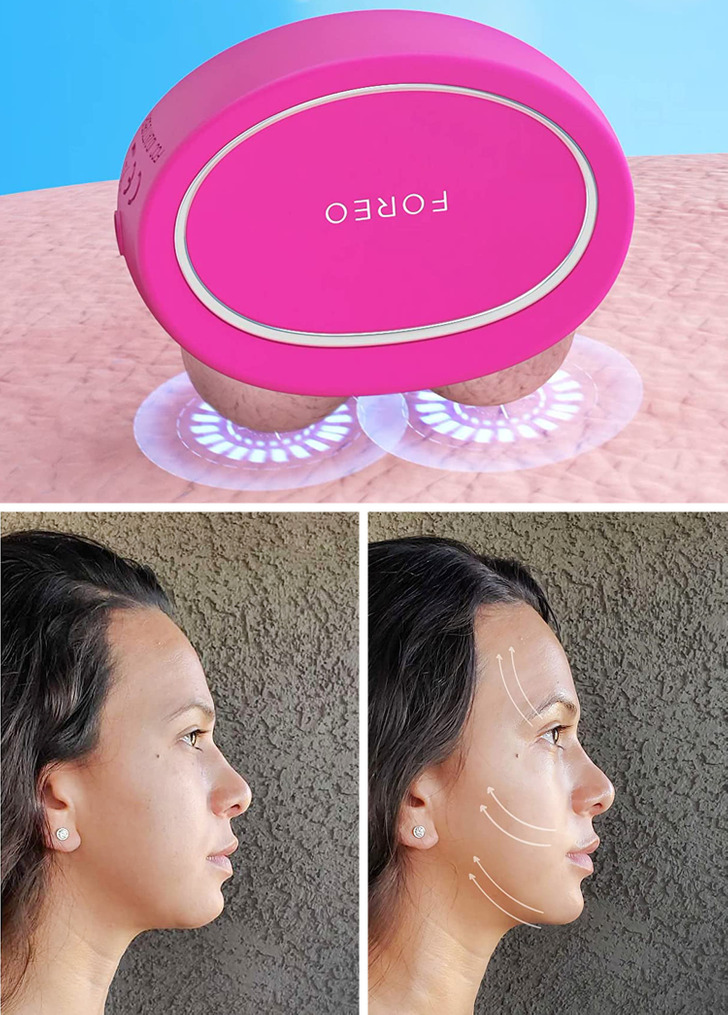 The superior microcurrent combined with T-sonic pulsations stimulates the lifting, tightening, and firming of your skin.
Promising review:
I've spent around £2,000 on face treatments over the course of a few years. However, I can't really treat my face at home, that is until I started using FOREO. It is very effective, and immediately I saw the difference — after just a few days. I use it twice a day for 4 minutes at a time, I never miss using it. It has defined my neck, chin, and cheekbones. I don't use the serum YET as my skincare routine is extensive, and I'm not sure how to incorporate the FOREO serum into it yet. It's WELL worth the investment, and you will save yourself a lot of money if you use this device from a young age (25+). Investment is 100% worth it. — Numrah
7. This beauty device gets the job done: "Absolutely brilliant product. Took a little while to get used to, but once I did, I wish I had purchased it sooner. I can actually see the results after only a couple of weeks of use, I use it over my serum, and I've received lots of compliments from friends and colleagues — even asking if I'd had Botox. I could go on forever raving about this item, it's amazing."
The massager is easy to use. A unique "Y" design creates close contact with your skin. You can also use it on your body.
Promising review:
I bought this product not really knowing much about it, but after using it, I am in love with it. I honestly didn't think such a small device could be so powerful. When used on the face for about 20 minutes a day, I've noticed my eye bags get reduced and the puffiness in my face goes down by a lot. It helps to give structure to your face and gets your blood pumping, which in turn gives you a very healthy glow. The product was presented in a gorgeous box, and the product itself looks very nice and trendy. I would definitely go out and buy this. It's a bargain for what it is, as I've seen some as expensive as £200. — Rakzy2704
8. A lifting reusable face mask that will make your face much slimmer! No need to be skeptical: "I noticed the first difference after a few days. Now, after almost 30 days, the difference is really visible. The shape of my face was different before trying the product. I will probably use this product as part of my rituals. I am very happy with the results."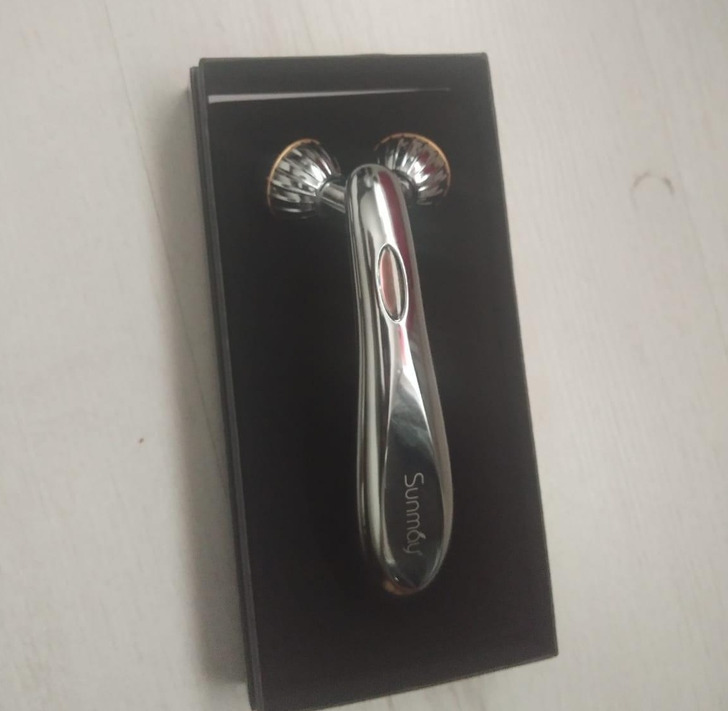 img src="https://vk.am/wp-content/uploads/2023/02/8d704d5e7b866c5f5d137d2e32.jpg" alt="" width="728″ height="631″size-full wp-image-63173″ />
This lifting bandage is effective in removing the double chin and skin sagginess. It is made out of breathable material. It can be used by men and women.
Promising reviews:
Having been very conscious of the 'turkey' neck I was left with after losing a great deal of weight, I must admit I was willing to try anything to improve it. I started to use this bandage as soon as I received it, and I am still using it every day, some 4 weeks later. I find it comfortable and easy to use, and I am suitably impressed with the results. I have noticed a real difference in the shape of my face, as my skin feels and looks much firmer and my jawline is more defined. I am very pleased with my purchase and would recommend it to anyone. The proof is in the pudding, so to speak. — J. Dawber
I'm 51, so I bought this mask to help with the signs of aging and the shape of my chin. I could see a difference after using it for only a few days. At first, I used it for the recommended hour, but I've also slept with it on (I loosened it slightly) and I can definitely see a slight improvement already. I intend to keep using this and hopefully, I'll see even more improvement with time. It's very comfortable and easy to fasten on top of my head with the Velcro. — Debbie
9. This skin-tightening device is very creatively designed: it has 4 rollers, and every one of them can be rotated 360°. It is small but mighty and looks very stylish. "After 3 weeks, I can see the results already. I can see a huge improvement in my double chin, it has started to gradually disappear. Also, the skin looks more toned. And what a treat to get a nice massage on your face while relaxing on the sofa!"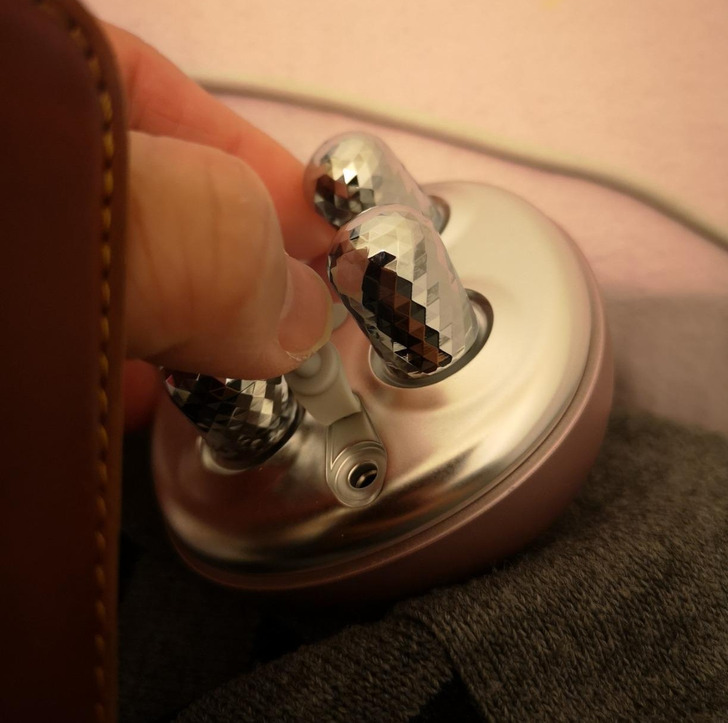 10. A beard kit that is easy to use. The derma roller stimulates hair follicles so that new hair can grow out: "My fiancé has been using it for about a week now and is already seeing improvement! Deff will be getting more of this since he's been struggling for years to try and get a thick beard. Finally started the process thanks to this product."