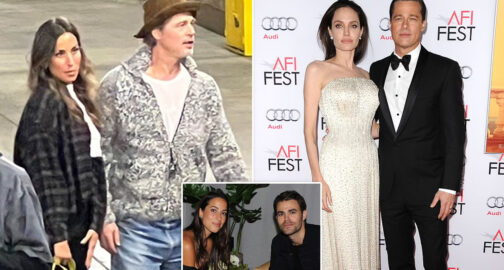 A source close to the actor said that he and Ines are 'serious' and that Brad has been a 'huge support' to her as she navigates her own divorce
Ines' former husband, The Vampire Diaries actor Paul Wesley, filed for divorce on February 17, five months after their split was made public
Brad is still in the midst of his own divorce and custody battle with Angelina, 47
Brad Pitt has been a 'huge support' for his 'serious girlfriend' Ines de Ramon as she navigates her divorce from ex Paul Wesley – and 'doesn't give a damn' what his ex-wife Angelina Jolie 'thinks about his new relationship'.
The 59-year-old actor – who is still in the midst of his own bitter seven-year divorce and custody battle with Angelina, 47 – started dating Ines, 29, back in November and, according to a source close to the star, the pair have grown incredibly close over the past three months.
Speaking exclusively to DailyMail.com, the insider revealed that Brad has now introduced Ines to 'most of' the six children he shares with ex-Angelina, while detailing how he and his new partner have each been a source of support to one another after 'bonding' over their respective divorces.
Ines' ex-husband, The Vampire Diaries star Paul Wesley, 40, officially filed for divorce on February 17 – five months after their split was confirmed by a spokesperson.
'The decision to separate is mutual and occurred five months ago. They request privacy at this time,' the rep stated in September.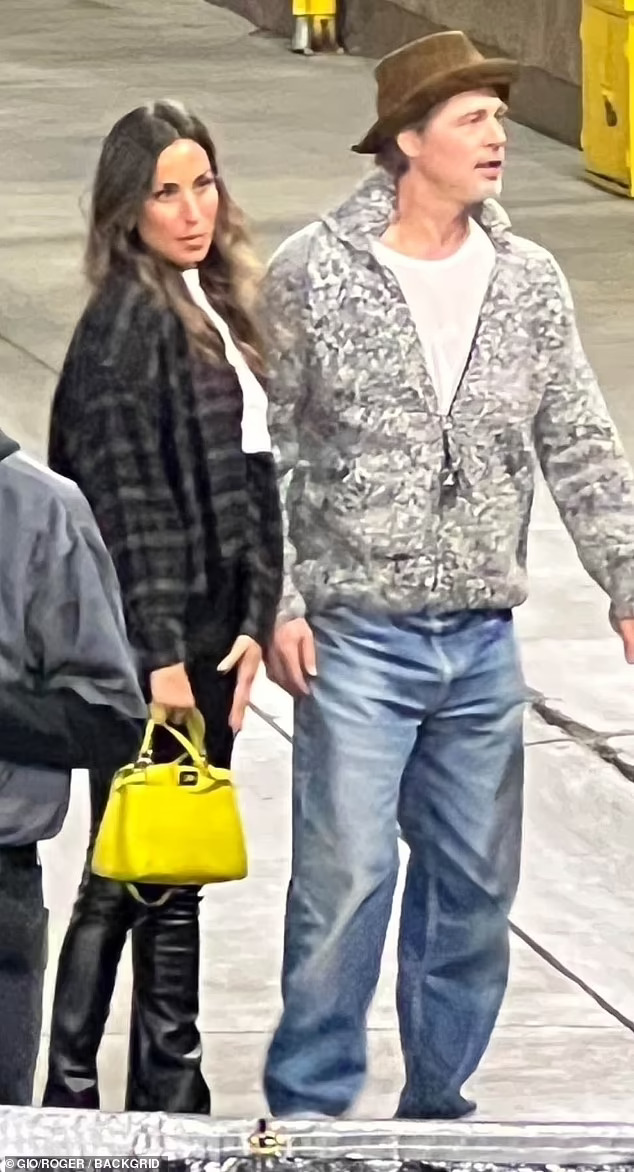 Paul is representing himself in the divorce and stated in his filing that their marriage of four years ended due to 'irreconcilable differences.'
Ines and Paul do not share any children so it is likely that their divorce will prove to be much less complicated than Brad's, which has involved a lengthy and very messy custody battle with Angelina that has yet to be fully resolved.
But, the source said, Brad is receiving plenty of support from Ines during his ongoing legal battle with Angelina, even as the celebrity health coach deals with the breakdown of her own marriage.
'Ines does the same for Brad who is unfortunately still dealing with his messy divorce from Angie,' the actor's close friend shared. 'They actually bonded over their divorces and are quite serious.'
'She has met most of his kids,' the insider added, referring to the six children he shares with Angelina – Maddox, Pax, Zahara, Shiloh, Knox and Vivienne.
'Brad's relationship with Angie was such a high-profile disaster and it is quite the opposite with Ines. She is zero drama and very lowkey.'
As for what Angelina might have to say about Brad and Ines' romance, the source insists the actor 'doesn't give a damn' what she thinks about his relationship, saying: 'He especially doesn't give a damn what Angie thinks. In fact he wants her to know that he is happy with someone else.'
The Oscar winner also isn't worried about Ines' ex, Paul, who began dating 22-year-old model Natalie Zuckerberg at around the same time as Brad and Ines' relationship was made public.
'Brad does not care what Paul thinks of him, nor what Paul thinks of him dating Ines,' she source shared.
'Even though Paul is out of the picture, Brad and Ines are going to continue keeping it on the DL.'
However, as those who follow Brad know, it has not been that DL so far.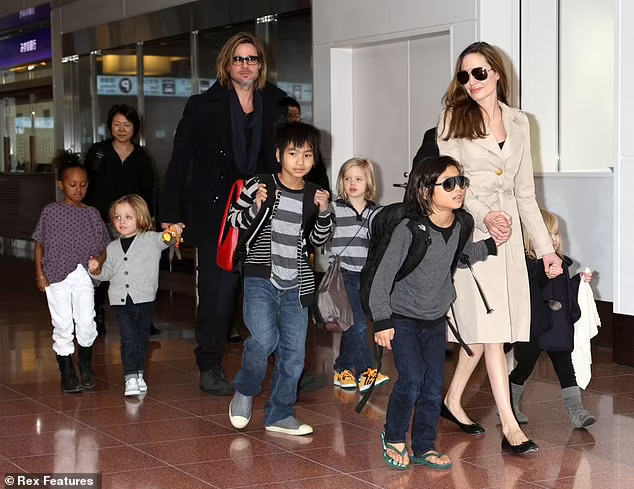 In November, Brad was spotted for the first time with Ines outside of a Bono concert in LA. The two were being incredibly affectionate with each other and were seen smiling as they embraced each other.
Since then, they have been seen together on numerous occasions, including the LA premiere party for Brad's latest film, Babylon.
Ines also showed up for her boyfriend's 59th birthday party in December.
'They were very cute and flirty. You could tell that she makes him happy,' a source who attended the party told People.
Later that month, Brad and Ines rang in the New Year together with a romantic getaway to Cabo San Lucas.
Sadly, Brad and Ines were forced to spend Valentine's Day apart, as he is currently in New York City filming his latest movie, Wolves, with George Clooney.
That did not stop Brad from showing his love for her. On the special holiday, Ines was spotted outside of her work looking very happy after receiving a huge bouquet of pink flowers, along with a baguette.
She appeared to be on cloud nine when she left her office, clutching tightly onto the ceramic vase the contained the beautiful peonies. She held the baguette under her arm as smiled at awaiting photographers.
Brad and Angelina romance seemed like a true fairytale – until it was not.
The A-listers met on the set of Mr. & Mrs. Smith in 2003. At the time, Brad was married to Jennifer Aniston. The Friends star filed for divorce from Brad two years later, in March 2005, amid growing suspicion that he was secretly dating Angelina.
That summer, Brad and Angelina were first spotted together with their son Maddox on a vacation in Cambodia.
In 2007, Angelina addressed meeting Brad on the set of Mr. & Mrs. Smith. In an interview with Vogue, she said, "I didn't know much about exactly where Brad was in his personal life. But it was clear he was with his best friend; someone he loves and respects."
In 2008, they signed a lease to rent an 880-acre estate in Correns, France, Chateau Miraval. The property came with its own vineyard, which they later used to produce wine.
Brad and Angie got engaged in 2012 and married in a super private ceremony at their home in France. By that time, they had already had all their six kids together.
Four years later, their fairytale marriage came turned into a nightmare.
In September 2016, the two were flying from France to LA with their children when a fight erupted between the couple.
FBI documents released years later that featured a series of allegations made by Angelina – including that Brad allegedly 'shook' and 'grabbed' her during the flight in a drunken rage. She also alleged that Brad 'poured beer' on her and that she believed Brad 'was going to attack' one of their kids and called him a 'p***k.'
She accused Brad of 'becoming a monster' and said that, after 'screaming' at his family, the children were 'shell shocked.' She added that she felt 'scared and didn't know what to do.'
No charges were ever filed however.
On September 20, 2016, Angelina filed for divorce citing 'irreconcilable differences.' Her attorney released a statement at the time that read, 'Angelina Pitt has filed for dissolution of the marriage. This decision was made for the health of the family. She will not be commenting at this time and asks that the family be given their privacy during this challenging time
She requested sole custody of their kids and refused spousal support. Brad was granted visitation.
In May 2021, LA judge John Ouderkirk ruled that Brad could have more time with his kids. In July, the decision was reversed after a panel removed Ouderkirk from the case, claiming that he violated his 'ethical obligations.'
it was not only custody of their kids and their homes that the two got into a war over. In October 2021, Angelina sold her stake in their French estate and wine business, Miraval, which was valued at $164 million, to Stoli group.
Brad sued his ex in June 2022. In court documents, he said that she sold out to a 'stranger.' He accused her of intentionally trying to 'inflict harm' on him.
Angelina responded in September 2022. In court documents, she claimed that Brad 'masterminded' a plan to 'seize control' of their wine company.
They still have not finalized their divorce, nor have they come to an agreement over the sale of Miraval.